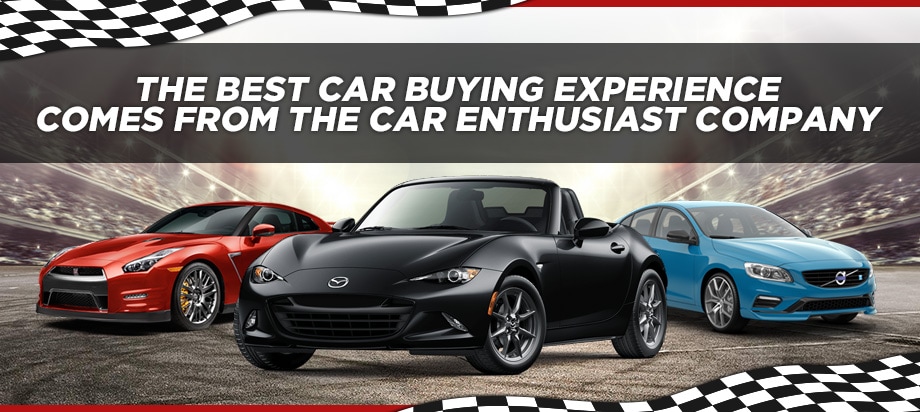 See Why We're The Car Enthusiasts' Company: Learn About the Autobarn VOW
Our owner and his staff at the various Autobarn dealerships near Chicago, IL, live and breathe the car business. We race, customize and sell the cars we love. When you visit one of our dealerships you get best-in-class service facilities, expertly-trained technicians, speedy maintenance and a fair price. Whether you're traveling from Chicago, Evanston, Oak Park or beyond, we will have a car that is a perfect match for you.
We consider ourselves The Car Enthusiast Company -- a business that's locally owned and operated by car fans for car owners of all kinds. We truly love selling, driving, repairing and talking about cars. When you visit one of our dealerships you will receive the kind of service that comes from years of passionate dedication. Whether you are looking for assistance in sales, service or finance, all of our dealerships are staffed with expert car enthusiasts to make your time with us personal and enjoyable.
Our enthusiasm for cars is unmatched. If you visit our Evanston Mazda dealership you can meet Danny Bender, a salesman who races factory MX-5 Miata race cars nationally. We are also proud to have our Volvo salesman, Jimmy Hanson, who runs a Volvo Club full of performance-modified Swedish vehicles. Jason Saini, meanwhile, runs our in-house performance shop, Greenwood Motorsports, which specializes in high-performance wagons. Last but not lease is our owner, Richard Fisher, who has been racing competitively since the early 1990s. Richard has seen track time behind the wheel of Mazda, Volvo and Nissan models. An avid collector, Richard has an encyclopedic knowledge of cars. This knowledge comprises the base of what The Car Enthusiast Company is all about.
Need more reasons as to why you should buy from The Autobarn: The Car Enthusiast Company?
All of us genuinely care about what we do. When we're able to live and breathe our passion every day, our customers benefit.
The Autobarn VOW is a company-wide credo and an employee pledge to not only deliver great cars, but to build lasting relationships with our clients.
From buying your first car to repairing your current one to leasing your next one, we VOW to make the experience fun, fair and satisfying.
We VOW to always treat your vehicle like it's our own and earn the lifetime loyalty of each and every one of our valued patrons.
Many of our staffers are fluent in Spanish, Dutch, German, Russian, Polish and more. No matter what language you prefer to talk cars in, we'll have someone who can assist you.
With us you get The Autobarn Advantage. Enjoy available perks like a two-year VIP Synthetic Oil Change Plan, two years of Dent & Ding Protection, two years of Autobarn Advantage Interior Protection and more.
Receive a free service loaner car while your vehicle is in the shop if it is under warranty and we need to keep it overnight.
Whether you're in the market for a unique pre-owned performance car or a sporty, fun convertible, we have you covered. Visit an Autobarn dealership near Chicago, IL, today!